Best Buddies Tampa Friendship Walk
Schedule of Events
Saturday, May 4, 2019
Check-in: 8:00 AM
Walk: 9:30 AM
Celebrate: Until 12:00 PM
Location
Raymond James Stadium
4201 N Dale Mabry Hwy.
Tampa, FL 33607
The Black Pearl has our own team to raise money and/or participate in the walk.
Link to page
Black Pearl members are asked to come down and support this wonderful cause in full garb. We will be handing out beads and cheering for the participants as they finish the walk. Here is a picture from last year: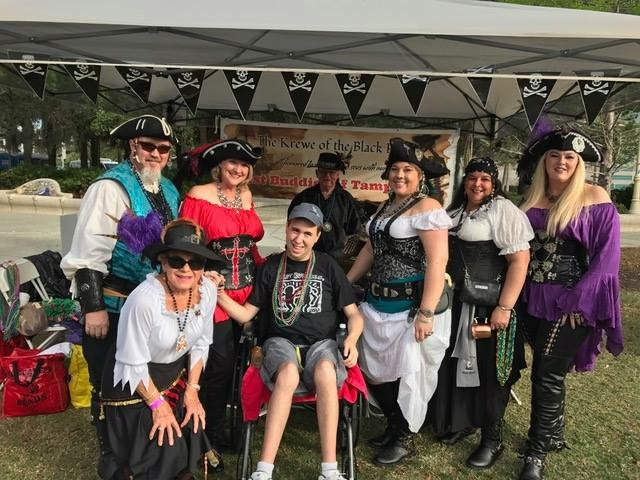 Sunday, March 3rd from 11:00 AM - 1:00 PM is our Gasparilla Pageant, to be held this year at the Hilton Westshore Hotel, located at 2225 N. Lois Ave., Tampa - in the GASPARILLA BALLROOM! It's going to be a beautiful ceremony, crowning young ladies with the Gasparilla Pageant Titles and beginning their year-long reign of doing good in Tampa Bay!
In past years, the girls have supported the Showmen, Foster Families, Metropolitan Ministries, Locks of Love, the Shriners and many more fine charities. The Pageant event itself celebrates all that we love about Gasparilla!
This year, we are holding a Food Drive at the Pageant along with the Pageant crowning - and the benefactor is THE KIND MOUSE, a local food charity which helps children and families in Tampa Bay who are "food insecure" every day. *Their VISION STATEMENT from their website at
thekindmouse.org
reads as follows:
Kind Mouse's Vision
Our mission is to assist families in transition and their chronically hungry children while developing the next generation of volunteers to carry on the mission of The Kind Mouse. No hardworking individual should ever feel despair due to economic hardships beyond their control. Everyone has a right to feel safe and secure in their own homes, And no one should ever go hungry…
We are happy and beyond excited to invite you and to welcome you all to the Pageant on the 3rd!! Your Pirate Presence will add so much to the experience of all who attend, (including esteemed Tampa figures and celebrities.) Our efforts on this day and The Black Pearl's participation will also show the young people the value and beauty of charity and compassion, as well as the celebration of Gasparilla.